Die Email bleibt für eine große Anzahl von Verbrauchern nach wie vor einer der wichtigsten Kundendienstkanäle. Nicht jedes Unternehmen ist jedoch sehr bemüht, schnelle und professionelle Antworten zu geben – tatsächlich reagieren einige überhaupt nicht. Die Umfrage von SuperOffice hat herausgefunden, dass 62% der Unternehmen nicht auf Emails des Kundendienstes antworten, 90% informieren den Kunden nicht darüber, dass eine E-Mail empfangen wurde, während 97% nicht nachverfolgen, ob die Kunden mit der Antwort zufrieden sind.
Während es fast unmöglich ist, jede einzelne Email an potenzielle Kunden oder aktuelle Kunden von Hand zu erstellen, verwenden Sie KundendienstVorlagen, welche eine Vielzahl von Szenarien abdecken und für Ihr Kundendienstteam von großer Hilfe sein können, insbesondere für diejenigen, die mit einer großen Anzahl an Emails umgehen müssen. Mit Vorlagen als Startblock können Ihre Vertreter mehr Kunden in kürzerer Zeit und mit weniger Stress helfen und sicherstellen, dass sie einen beständigen Service bieten.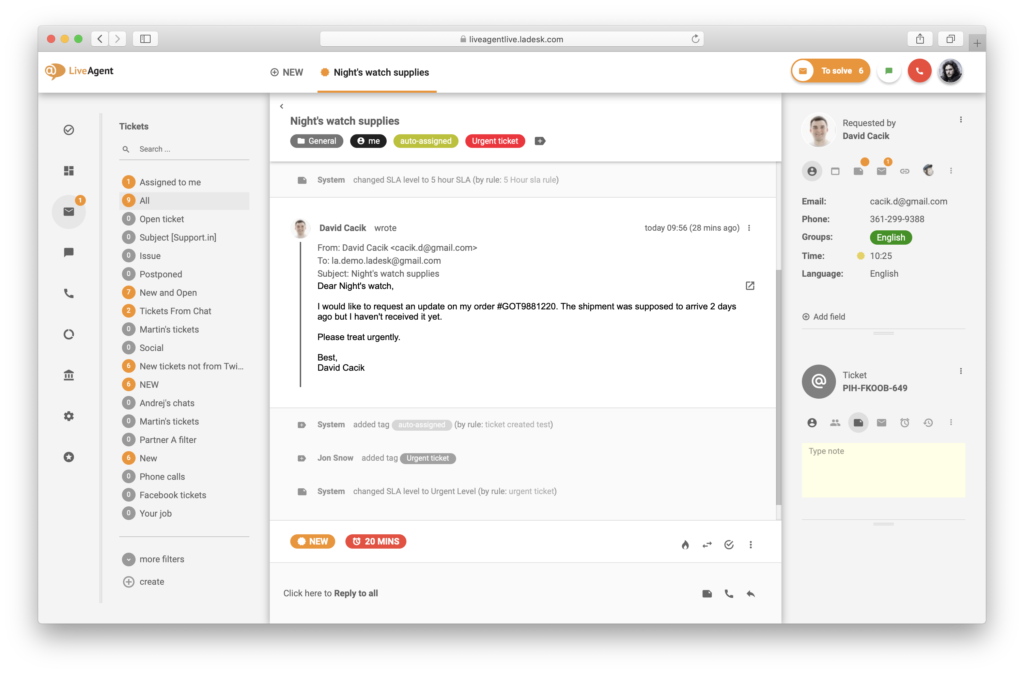 Die Vorteile beim Benutzen von Emailvorlagen für den Kundenservice
Sparen Sie Zeit und verbessern Sie die Effizienz Ihrer Vertreter. Durch die Verwendung von Kundenservicevorlagen bei der Beantwortung von Kundennachrichten wird Ihr Supportteam davor bewahrt, individuellen Antworten erstellen zu müssen, deren Zeit wird optimiert und die Effizienz verbessert.
Reduzieren Sie die Anzahl menschlicher Fehler. Mit vorgefertigten, bewährten und getesteten E-Mail Antwortvorlagen für den Kundenservice können Sie Fehler, die menschlich sind beseitigen und das Risiko des Versendens falscher Nachrichten beseitigen, welche die Kunden frustrieren könnten.
Pflegen Sie kosequent das Nachrichtenverfahren des Unternehmens. E-Mail Vorlagen für den Kundenservice stellen sicher, dass alle Mitglieder Ihres Supportteams auf derselben Seite sind, während Ihre Markenstimme bei jeder Kundeninteraktion präsent bleibt.
Allgemeine Emailvorlagen für den Kundenservice
Das Erstellen einer eigenen Bibliothek mit Beispielen für Emailvorlagen für den Kundenservice kann sowohl schwierig als auch zeitaufwändig sein. Hier finden Sie einige bewährte Emailvorlagen, die auf 10 verschiedenen Szenarien basieren, die Ihr Supportteam bei der Interaktion mit Kunden und potenziellen Kunden verwenden und nach Bedarf anpassen kann.
Auto-response Emailvorlage
Einen Kunden mit einer Emailvorlage in Schach halten
Dankeschön Emailvorlage
Emailvorlage für einen verärgerten Kunden
Emailvorlage für einen zufriedenen Kunden
Emailvorlage für eine Antwort auf eine Kundenbeschwerde
Emailvorlage für eine verspätete Antwort
Follow-up Emailvorlage
Emailvorlage für eine Fristenerinnerung
Emailvorlage für eine Rückerstattung
Ready to put your customer service templates to use?
LiveAgent is the most reviewed and #1 rated customer service software for small to medium-sized businesses. Try it today with our free 14-day trial. No credit card required.
Free Trial
Zurück zu den Vorlagen