What is a customer success manager?
A customer success manager (CSM) is responsible for building long-lasting customer relationships by continuously providing value even after closing a deal. This customer success role is the most significant in the post-sale phase.
The client success manager is a relatively new job position. You can most often find it in SaaS companies. However, this is not a rule. The main objective of the customer success manager role is to provide technical support for improved customer satisfaction, retention, and loyalty.
What is customer success?
Customer success describes how a company works with its customers to ensure they are satisfied with its products and how they run their businesses.
Customer success teams often rely on real-time data and customer feedback to help their proactive efforts. They help customers understand and use the company's products and interact with the brand.
Customer success teams collaborate with customer service representatives, customer experience specialists, and other customer-oriented departments to ensure a smooth customer experience with the product. Customer success departments also work to ensure that customers remain with the company after the purchase and become a loyal consumer base.
For different companies in various industries, customer success can be very different. High-tech companies developing AI-powered software have a different customer base and business goals than clothing retailers. Their customer success efforts will therefore differ significantly pre- and post-purchase.
What does a customer success manager do?
The roles and responsibilities of a CSM vary based on the company. However, there are a few key areas every CSM comes into contact with, no matter the company or industry.
Brand advocacy – CSMs often have one-on-one contact with customers, they can influence clients' views on the company. CSMs are responsible for building rapport and promoting the brand to potential and current clients.
Customer intelligence – The goal is to identify client needs and pain points throughout the customer lifecycle. CSMs evaluate customer feedback and analyze statistics and reports. This data-driven approach is crucial for developing effective marketing campaigns and sales efforts.
Onboard new clients – CSMs make sure the company meets all customer goals. Educating customers on the company's products and services is a key client success manager's responsibility.
Advocate for customers – All client success operations specialists act as the customers' voice, promoting their goals and interests.
Promote up-selling and cross-selling – CSMs try to increase customer lifetime value. They offer upgrades, premium programs, and memberships to boost the overall company revenue and even more importantly, exceed customer expectations.
Handle complex customer issues, and ticket escalations, and prevent breaches – To ensure the best customer experience, they help avoid ticket breaches and long resolution times.
Build customer relationships and prevent churn – CSMs stay in close contact with customers. They provide guidance and personalized support to reduce churn and build long-lasting bonds.
Evaluate complaints and improve customer experience – With other customer-facing departments, they evaluate feedback and customer concerns and improve the overall customer experience.
4 Tips to hire the best customer success manager
If you are looking for somebody to hire for a CSM position, their customer success manager qualifications are one of the most significant factors you should evaluate. However, there are many more things to consider.
1. Internal or external customer success manager?
Before you open a position for a customer success manager job, look around your company. Many dedicated, hard-working customer support professionals might be the best candidates for the position. The best employee is the one who knows the company culture, products, and services and has the right skills. It is often more effective to search your entire company for the right candidate rather than interview dozens of outside applicants.
2. Company culture
If you can't find an existing employee to fill the position, make sure the candidate fits your company's culture. Identify at least 3 key principles your company culture values. Then, evaluate whether the candidate falls in line with them.
3. Customer success manager skills
Searching for the right person can take some time. Because the position is relatively new on the market, it's difficult to find applicants with CVs boasting years and years of experience in this job. It is crucial, however, for candidates to possess the following skillset to be successful in this position.
Exceptional communication skills
An established career in customer success/sales/support
Empathy and interpersonal skills
Curiosity and willingness to learn
Problem-solving skills
Time management
Organizational skills
Team player
Technical skills
Industry knowledge
Analytical thinking
Initiative
4. Be open-minded
Our last tip is to stay open-minded. While previous experience may seem essential, don't limit an expansion opportunity solely because of it. Plenty of candidates with the right skills and mindset can surprise you with how much they can learn in a short period. Not everyone will fit in with the rest of the team just because they were senior customer success managers in their last job. If they are driven and fit your company culture and the rest of the team, you might as well give them an opportunity. Look at the candidates globally and try to remove all the potential preconceived notions or biases.
How can help desk software make you a better customer success manager?
A CSM's day usually consists of conversations with customers and various company departments. Nowadays, it is impossible to manage all customer interactions without reliable help desk software.
First of all, let's explain what customer success software is. It is a system that unifies all your customer communication in one platform. It helps create a seamless customer experience for your business and all customers. On top of that, a help desk system allows your customer support department, sales staff, and other customer-facing employees to collaborate and deliver a consistent and engaging experience to your clients.
On the market, there are many help desk software solutions, such as LiveAgent, which is an excellent example of why use customer success software to enhance your customer service.. This multi channel solution combines live chat, email, calls, a customer portal, and more. With such a system, your customers can contact you at any time, whether they need help or just want to ask a question. Moreover, LiveAgent customer service software provides in-depth customer service reports and other powerful tools, which can help your company provide the best customer service possible.
LiveAgent 2021 | Better Customer Service Starts Today | Live Agent01:12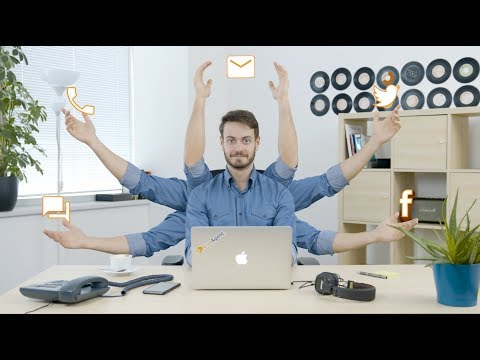 Live Agent
Help desk Features that help client success managers:
Let's review some key features that will allow customer success managers to perform their jobs effectively and exceed their customers' expectations.
🟠 Automated ticket distribution
Automated ticket distribution automatically assigns incoming tickets to agents according to pre-set rules. It enables client success managers to set up a ticket routing system that ensures the quickest and most efficient resolution. You can set ticket distribution based on agent skill set, ticket load, average utilization, and more.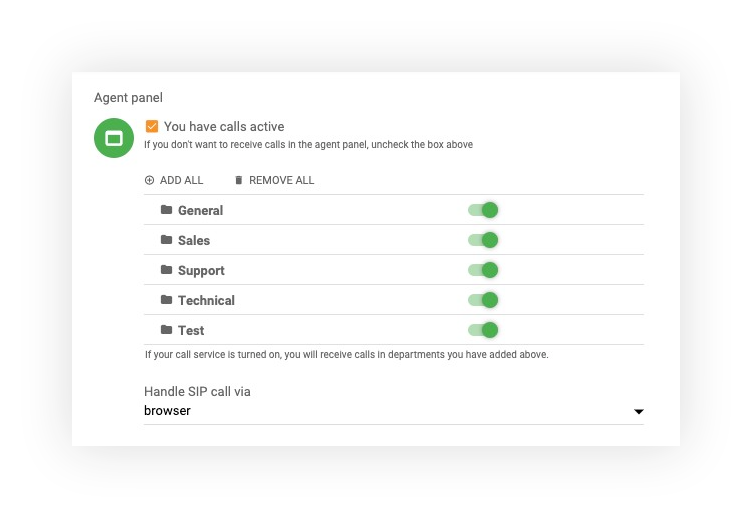 🟠 SLAs
Setting up SLAs (service level agreements) ensures that the customer service reps provide high-quality customer service. They are mainly in place to prevent ticket breaches. The service provider is contractually obligated to fulfill SLAs. If they fail to do so, they can face financial penalties.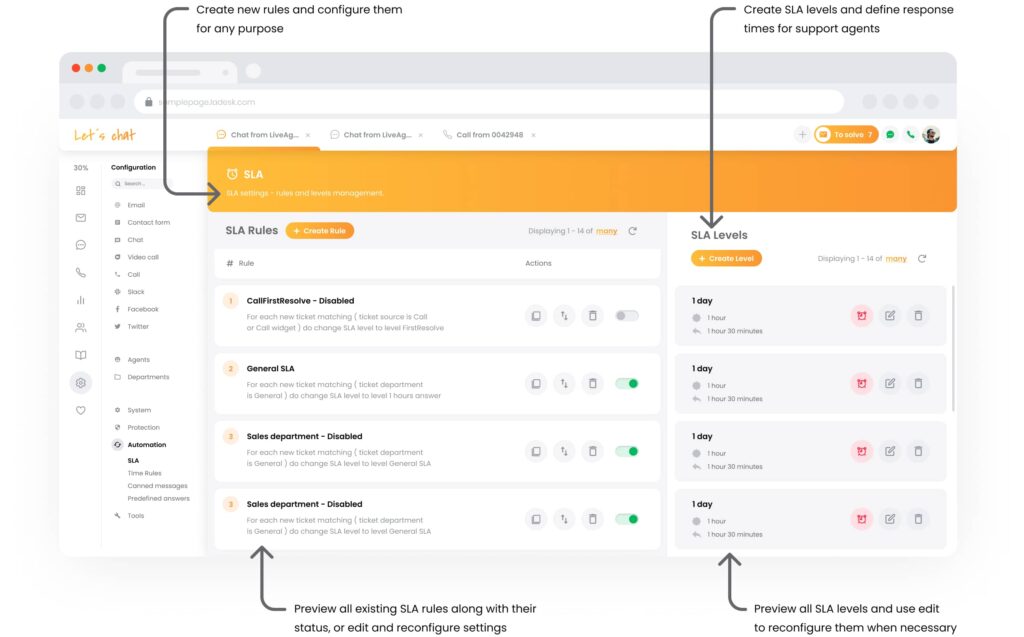 🟠 Time Rules
Time rules can prevent customer frustration. They perform small time-sensitive tasks that don't have to be action-triggered. Businesses usually set up time rules for help desk cleanup, email follow-up, or closing tickets that have been inactive for a set time.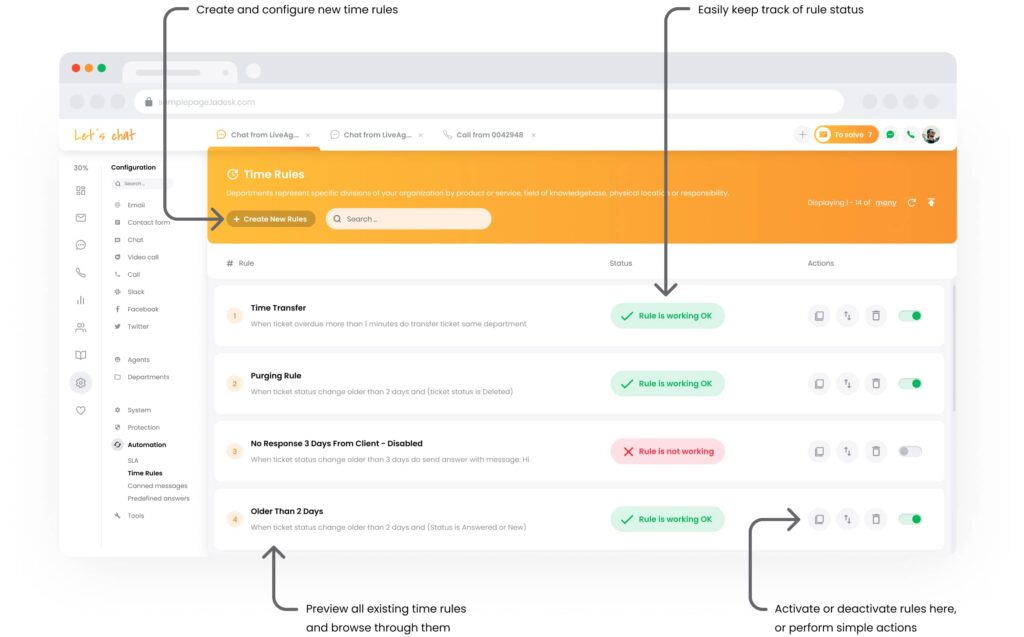 🟠 Email Templates
Email templates are a great addition to any customer service help desk. They cut back on time spent writing frequent emails and ensure consistency. However, adding personalization to these emails is a must to provide the best customer experience.
🟠 CRM
Customer relationship management is invaluable when it comes to customer success. Centralized CRM can help your agents record and promptly retrieve customer information. CRM can store various types of information from conversation records, previous orders, customer likes and dislikes, preferred communication channels, agent notes, and much more. CRM helps reduce response time and allows agents to provide more personalized service.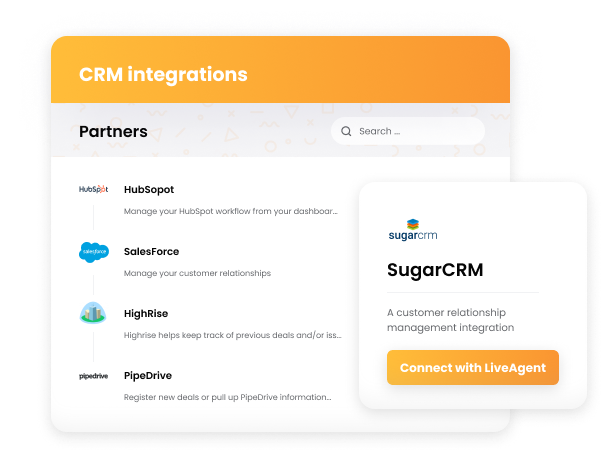 🟠 Canned responses
Many businesses struggle to improve their response times, which affects customer satisfaction. If this is the case, canned messages will save your customer success team. These short, pre-written responses can save your agents a lot of time, especially when dealing with repetitive inquiries. In LiveAgent, you can use canned responses in email, live chat, tickets submitted via customer portal, social media, etc.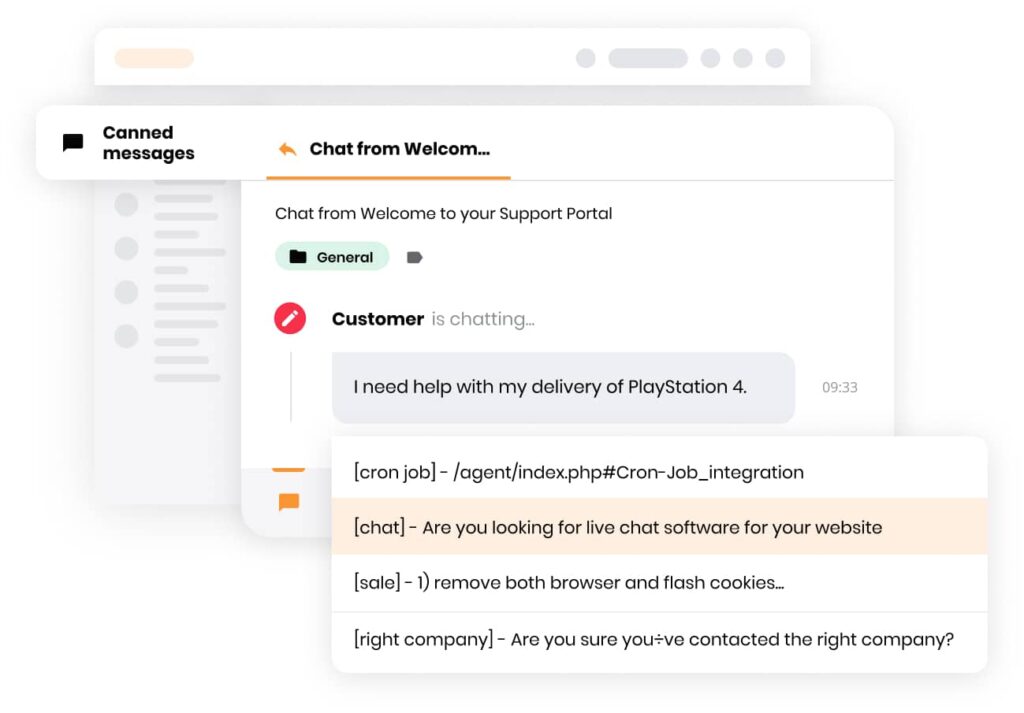 🟠 Split tickets
A split ticket helps your agents work more efficiently. You can use it in cases where multiple issues in a single ticket need to be resolved. This feature splits the ticket into two so more agents can work on them simultaneously. Splitting tickets helps resolve them quickly and efficiently, regardless of their complexity.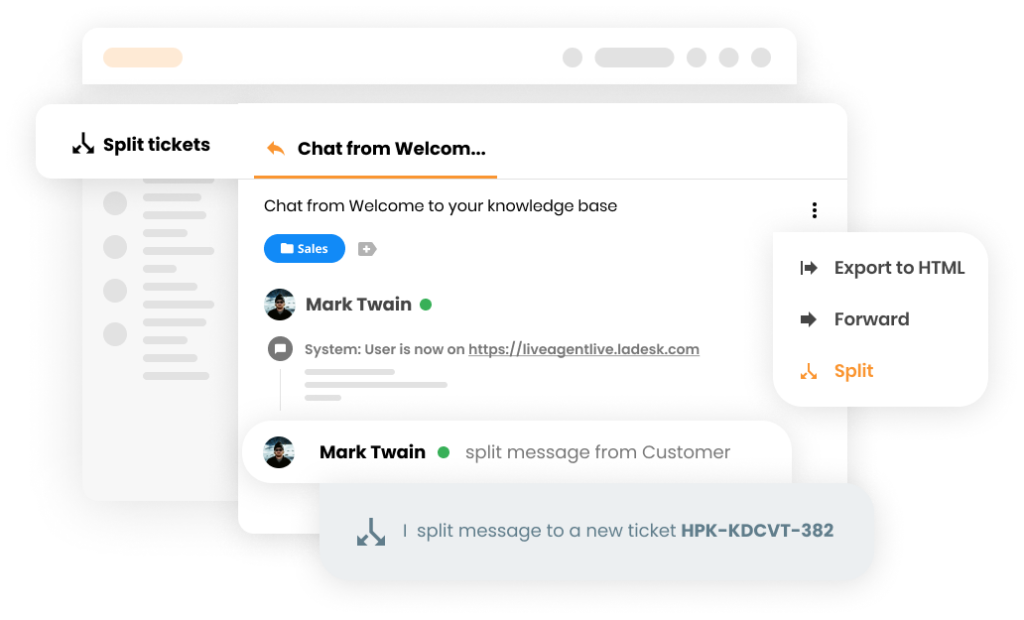 🟠 Ticket history
Ticket history is a previous customer communication history. Users can view all the necessary details about past communication. This feature allows agents to handle tickets even if they haven't worked on them before. Together with CRM, ticket history ensures consistent customer experience across the board.
🟠 Forum
For customer success associates and managers, forums are invaluable for analyzing common customer behavior, preferences, and end expectations. They can learn a lot of valuable information from customer discussions they can later use to improve the overall customer experience.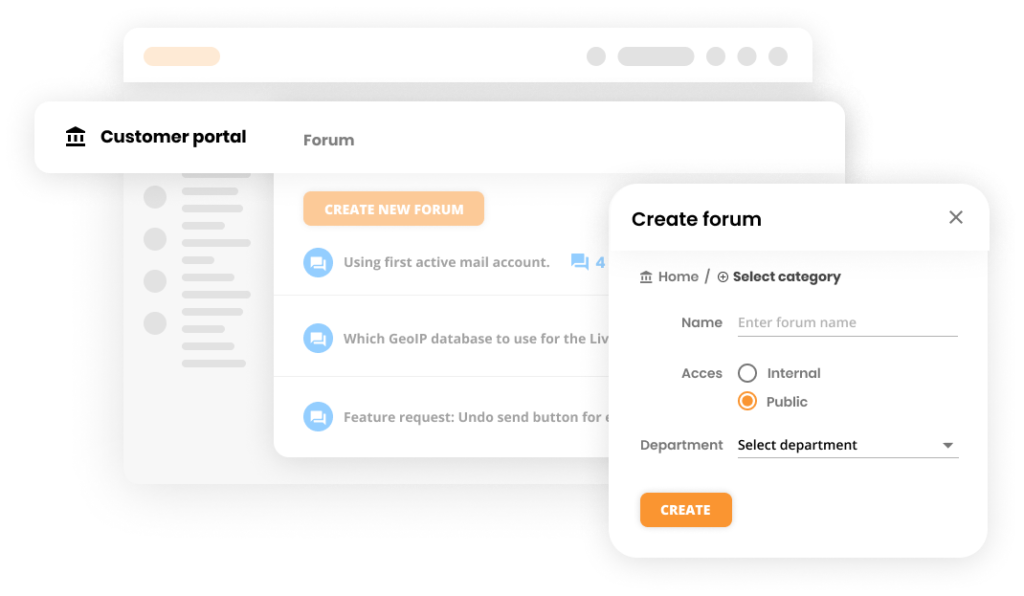 🟠 Website visitor tracking
Website visitor tracking helps determine customer touchpoints. It also allows CSMs to reach out to customers at the right time to nurture them toward making a purchase or upselling the company's products. This feature also helps with customer journey mapping, which is crucial for customer success teams.
🟠 Social media
Social media have become a significant part of customer lifestyle. Many consumers prefer to communicate with brands via social media. Providing support and guidance on social media is crucial to ensure an excellent customer experience. Moreover, social media propose a great way for CSMs to upsell their products, renew customer accounts, and more.
🟠Collaboration tools
Internal tickets, tags, and notes are all considered collaboration tools. They are there to improve interdepartmental collaboration. CSMs often work closely with other departments to ensure a consistent user experience and boost customer satisfaction.
Want to learn more? Discover all LiveAgent Features.
Business benefits
There are many benefits help desk software can bring to your business.
Better overall customer experience
Higher customer satisfaction rate
Increased sales
Short response times
Improved agent productivity
Access to advanced reporting
Integration with other systems
Effortless teamwork
Take your customer success to the next level with LiveAgent!
Build strong relationships, boost retention, and increase your revenue by signing up for a free 30-day trial!
Frequently Asked Questions
How do you become a successful customer success manager?

To become a successful customer success manager, you should be charismatic, dedicated, and disciplined. You need to sustain customer relationships, internal relationships, and interdepartmental relationships. Moreover, you often need to have a technical background. Product and industry knowledge, such as data analysis or technical troubleshooting. 

What is the difference between a customer success manager and an account manager?

A customer success manager spends a lot of one-on-one time with customers. CSMs are usually responsible for customer retention and churn prevention. An account manager is more focused on the financial aspects of keeping and retaining customers. They don't usually have one-on-one contact with customers. 

What does a customer success manager make?

The estimated salary for a customer success manager varies from country to country. However, a rough estimate for the United States is between $ 50,000 - 90,000. 
Expertennotizen
Ein Kundenerfolgs-Manager ist verantwortlich für den Aufbau langfristiger Kundenbeziehungen und stellt sicher, dass die Kunden nach dem Verkauf kontinuierlich Wert aus dem Produkt ziehen.

Andrej Saxon
Vertriebsmanager