Understanding the voice of the customer (VoC) is crucial for businesses striving to meet their customers' needs and expectations. In this article, you will learn the definition of voice of the customer, why the voice of the customer is important and its impact on business success. We will also explore various techniques for collecting VoC data and how to effectively use this data to drive positive change. By exploring these topics, you will gain a comprehensive understanding of how it can positively impact your business.
What is the VoC?
The voice of the customer (VoC) is an important component of customer experience (CX) that refers to the opinions, needs, expectations and preferences expressed by customers about a product, service, or brand. It's a research method that collects and analyzes feedback delivered by customers through various channels such as customer surveys, reviews, social media platforms, or direct interactions. By paying attention to the voice of the customer, businesses can gain valuable insights that can shape product development, improve customer experience, and drive overall business growth.
Why is the VoC important to understand?
Regardless of the industry you operate in, if you really want to understand your customers and why they make certain decisions, you need to focus on their perspective.
According to our research, more than 96% of customers agree that customer service is a key factor when it comes to their loyalty towards a brand. But up to 91% of customers leave without complaining or expressing the reason for their dissatisfaction, depriving the businesses of the chance to make improvements. Therefore, it's crucial to focus on getting this valuable feedback, analyze it and make changes accordingly to your findings.
Customer-centric approach
By paying attention to what your customers say, you can adopt a customer-centric approach that relies on putting customers' needs at the forefront of your decision-making processes. This can help you offer products/services that align with the expectations of your customers – leading to increased customer satisfaction and loyalty.
Product development
It can also serve as a guide in product development. By taking into consideration feedback, opinions and customer preferences during the design process, you can create products that are more likely to succeed on the market and reduce the risk of developing a product that is not requested or wanted by customers. As a result, you can save valuable time and resources.
Improved customer experience
Paying attention to the VoC will allow you to identify pain points and areas for improvement in the customer journey. Moreover, by acting upon customer feedback, businesses can enhance the overall customer experience – leading to higher customer retention rates and positive word-of-mouth.
Competitive advantage
It can also give your business a competitive advantage over your competitors. Analyzing and monitoring the direct feedback given by your customers, you will be able to adapt and innovate faster than your competitors who don't pay attention to their users' opinions.
Many different industries can benefit from understanding the importance of VoC. For example, companies operating in the retail industry can tailor their products according to the changing trends on the market. Technological companies can use VoC to develop their products in a more user-friendly way and address customer pain points.
Benefits of knowing the voice of the customer
Enhanced customer satisfaction: Understanding the importance of VoC efforts enables businesses to identify and address customer needs, resulting in improved satisfaction.
Increased customer retention and loyalty: By actively listening to the customers, businesses can address concerns and deal with issues that may otherwise lead to customer dissatisfaction. This can foster a sense of trust, strengthening their brand image and reputation, ultimately increasing customer retention rates and loyalty.
Increased sales and revenue: By aligning products and services with VoC feedback and expectations, businesses can attract more leads, increase customer loyalty, and ultimately drive sales and revenue growth.
Effective decision-making: The VoC provides actionable insights that allow strategic decision-making, leading to more informed and effective business decisions at all levels.
Examples of listening to the VoC
These are several real-life examples of companies that actively listen to the voice of the customer and implement it into their data-driven marketing strategies. They highlight the importance of understanding customer input, leading to positive outcomes for both the companies and their customers. Let's take a closer look at some of these impactful Voice of the Customer examples.
Dunkin'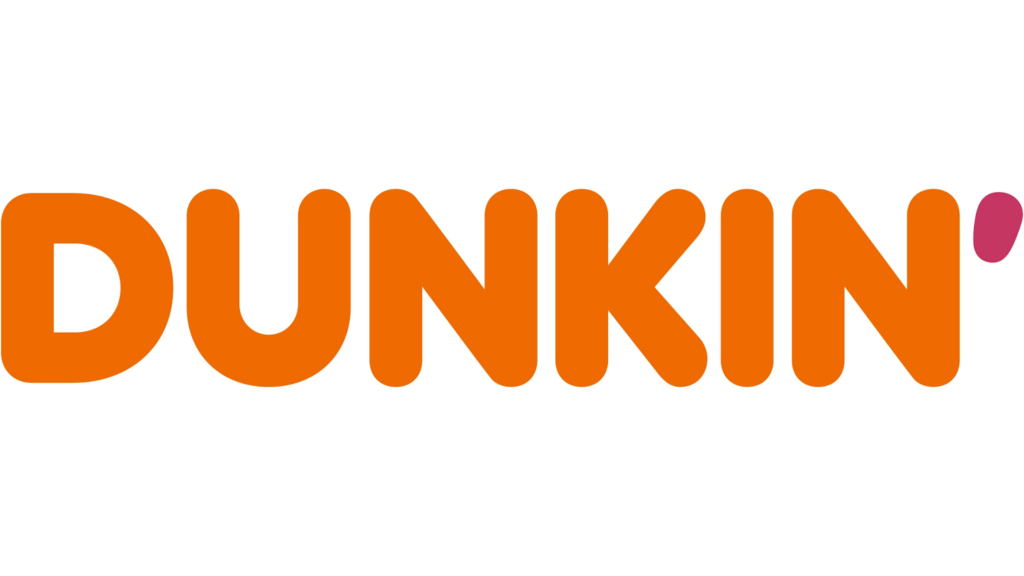 Dunkin' is one of America's favorite coffee and baked goods chains that offers thousands of menu combinations. They have a mobile app that is constantly updated with new versions. Because of that, the marketing team at Dunkin' wants to be able to incorporate their customers in the process. Therefore, the voice of the customer is key if they want to understand how each new release or update impacts customer sentiment.
They came up with a solution called Love Dialog in the form of in-app surveys. Through these surveys, Dunkin' prompted their customers to answer one simple question: "Do you love our app?" If they answered "NO" they then asked the customer to complete the entire survey and explain the reasons for their negative experience. Then, they used the voice of customer data to determine what percentage of customers liked the new update, and uncover issues that the rest of the customers were having after the update. Thanks to the surveys, the team at Dunkin' was able to quickly address the root of the problem behind the negative customer experience.
For example, they were able to identify what their customers want and need. They found out that customers want the option to simply select more or less ice in their coffee, or the possibility to choose if they want to add sprinkles or not. These few requests were promptly implemented in the app and communicated to their customers.
Heineken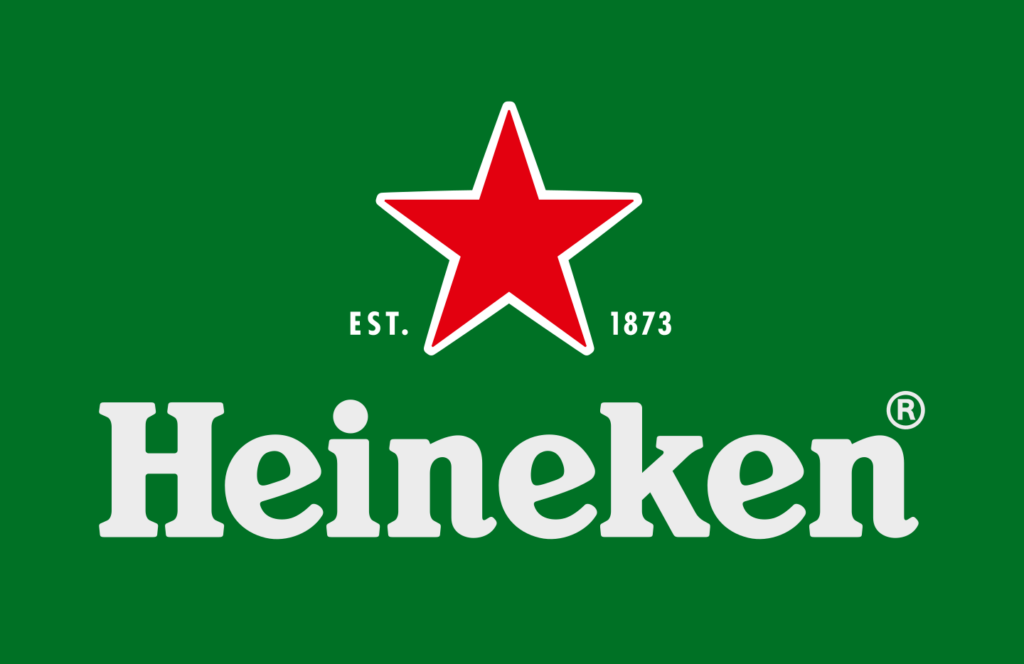 Heineken is a globally renowned brewery and beverage company known for its high-quality beers and a strong presence in the international market. They serve customers in both B2C and B2B markets. They sell their product through a distribution model that consists of two main channels – bars and restaurants, or supermarkets.
In 2020, they decided that they need to strengthen their business relationships with bar owners via a program they called AX. They sent out 600 relational surveys in order to collect actionable feedback from their unhappy customers. Soon after this, the conversations with their detractors turned into something positive as they were able to uncover the root of their problems and implement certain changes and processes at scale in order to turn these detractors into promoters.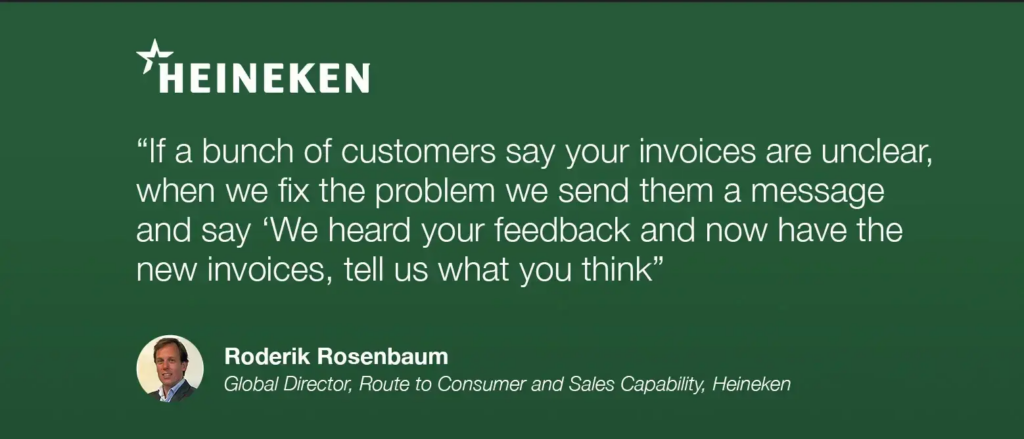 Tesla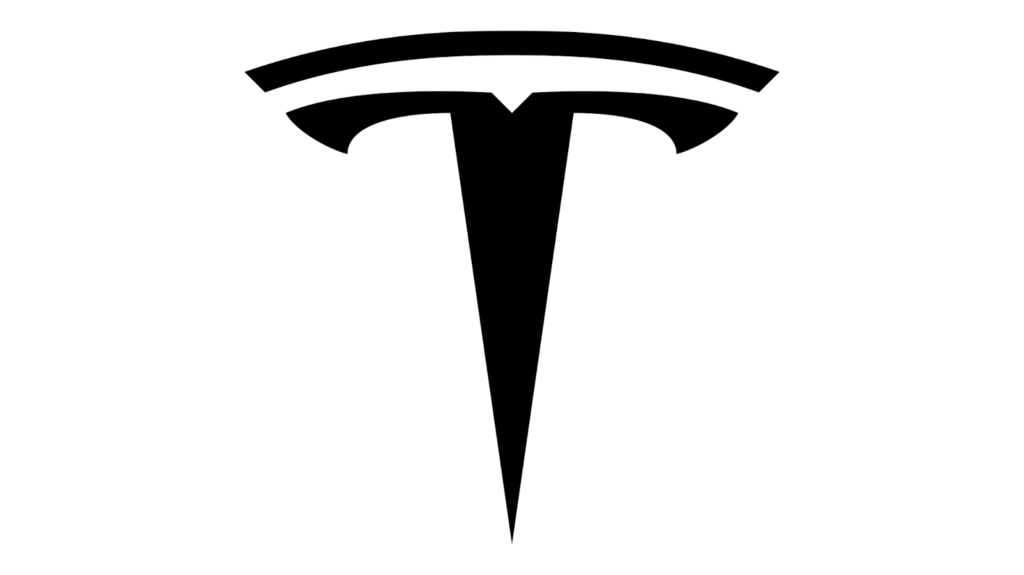 Tesla is an electric vehicle and clean energy company known for its innovative electric cars, energy storage solutions, and sustainable energy products. The company is also renowned for its continuous innovation and commitment to meeting the needs of its customers. Tesla has one of the highest Net Promoter Score (NPS) ratings across all industries with a score of 97. This is not only due to delivering a great product, but also thanks to their honest and open communication with their customers, and their use of customer feedback to consistently improve their products.
The product team at Tesla regularly monitors and analyzes their customers' driving experience and uses these insights to inform their engineers to make vehicle improvements to deliver exactly what their customers want.
The customization options set them apart from their competitors, and customer care issues are at the top of their list of priorities from the beginning of the customer journey. Drivers can change the settings of their vehicle right after they make a purchase. This gives Tesla the metrics they need to provide authentic, responsive and engaging customer experiences. Moreover, Elon Musk, the CEO of Tesla, frequently responds to customer complaints on Twitter which allows him to close the loop on customers' feedback and take action.
Understand the voice of the customer metrics
Understanding and tracking certain metrics related to the VoC can provide valuable business analytics and help companies make informed decisions. Here are some voice of customer metrics that can be tracked:
Net Promoter Score (NPS)
NPS measures customer loyalty and satisfaction by asking customers to rate how likely they are to recommend a product, service or a brand to others. They are done on a scale from 0 to 10, and based on the score, it categorizes customers as detractors (0-6), passives (7-8), and promoters (9-10).
Customer Satisfaction Score (CSAT)
This metric measures customer satisfaction by asking customers to rate their satisfaction with a particular interaction or experience. Customers are typically asked to rate their satisfaction on a scale of 1 to 5 or 1 to 10. CSAT provides insights into specific touchpoints or actual experiences, and can be used to identify areas for improvement.
Customer Effort Score (CES)
CES is used to evaluate the ease of customer interactions with a product/service or company. It measures the effort customers have to put in to accomplish a task or resolve an issue. Businesses can use this metric to identify areas throughout the entire customer journey that need to be improved, and take adequate steps to reduce effort and improve the overall customer experience.
Social media sentiment analysis
Social media analysis provides insights into customer sentiment that is expressed through social media platforms. It helps businesses understand how customers perceive their brand, product, or service in real-time. It allows businesses to address negative reviews, engage with customers, and identify trends and opportunities.
Techniques for collecting VoC data
Live chat
Live chat is an effective tool for collecting voice of customer data in real-time and making a voice of customer analysis. By engaging with customers directly through live chat, businesses can easily gather direct input, insight into customer preferences, and understand their needs.
LiveAgent is a customer service software that offers an agent ranking feature that allows businesses to evaluate and monitor customer satisfaction levels based on the chat interactions with customer representatives. This feature helps identify areas of improvement and provides customer insights into the overall experience.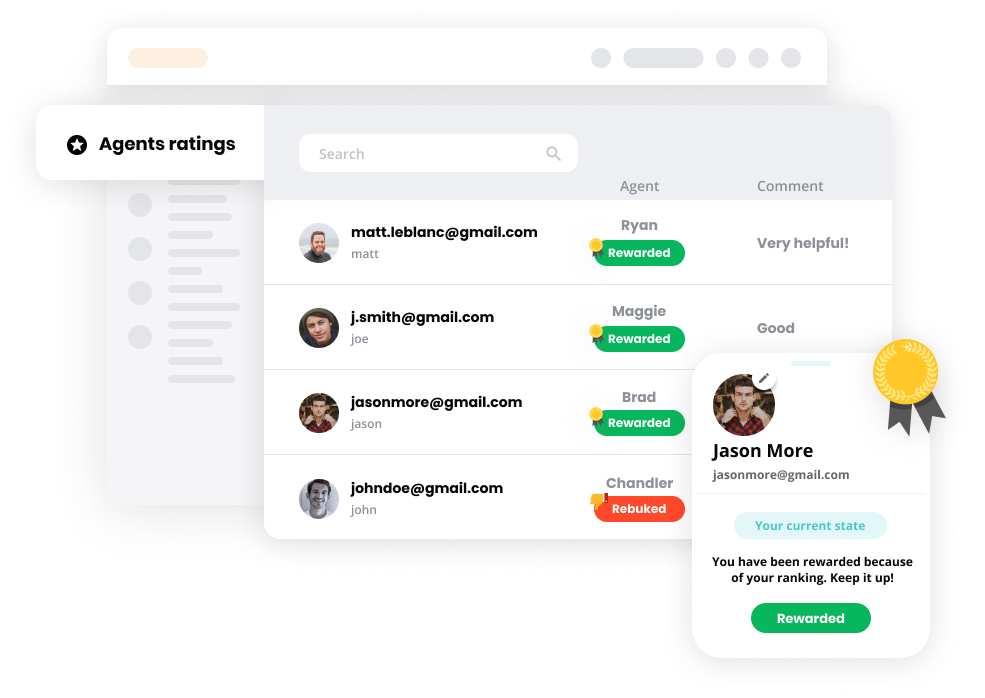 Use proactive approach: Live agents can proactively ask customers for feedback and ask about their satisfaction with the service to find out if there's anything that could be improved.
Implement post-chat surveys: After the live chat session ends, businesses can automatically send post-chat surveys and ask customers to rate their experience and provide any additional comments or suggestions. In LiveAgent, you can customize and send these surveys effortlessly.
Monitor chat transcripts: Reviewing and analyzing chat transcripts can provide valuable insights into customer sentiment, identify patterns, frequent customer requests, common questions, concerns, and areas for improvement.
Track customer ratings: LiveAgent also offers a rating system that allows customers to rate their chat experience with the customer service representatives. Businesses can use this data to identify common patterns and make improvements to their live chat service.
Social media and online reviews
Monitoring social media comments and online reviews is another valuable technique for collecting voice of customer data. With LiveAgent's social media support software, businesses can connect their social media channels and manage tickets from Facebook, Instagram, Twitter, WhatsApp, and Viber. This allows you to track and respond to customer feedback or mentions across different social media platforms.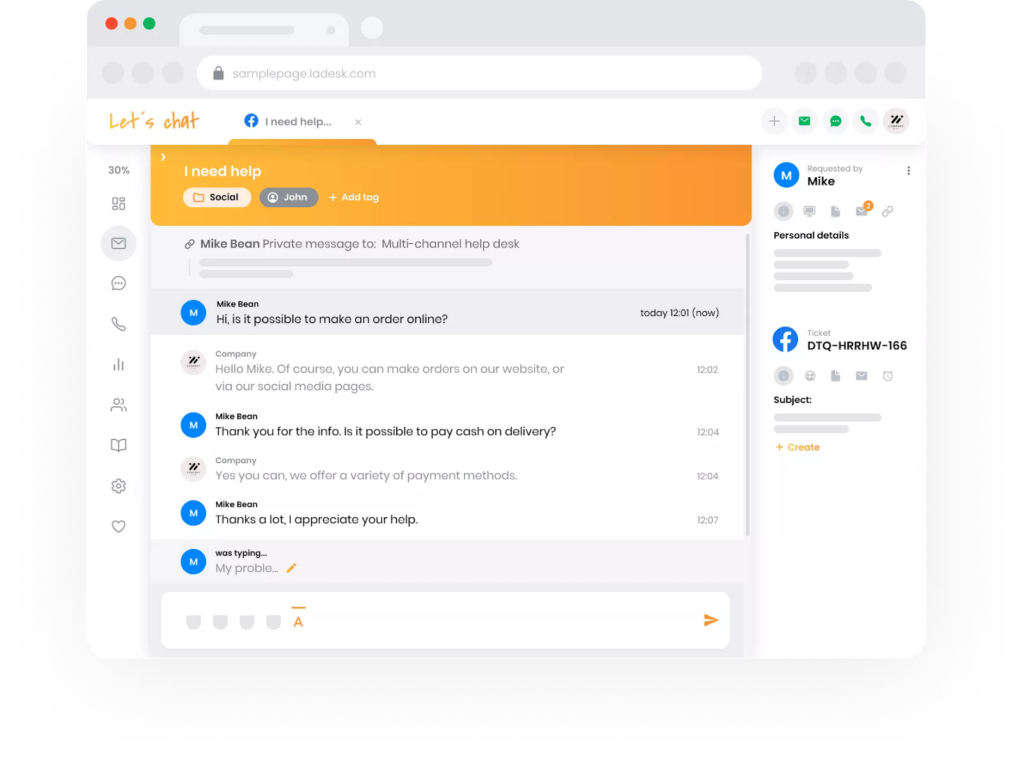 Monitor social media channels: Regularly monitor platforms where your customers are active and keep a close eye on mentions, tags, comments, and direct messages related to your brand or industry.
Set up alerts: Use social media management tools or alerts to notify you whenever your brand, products, or relevant keywords are mentioned. This will help you stay informed about any conversations happening on social media.
Engage and respond: Engaging in customer conversations and responding to feedback shows your commitment to listening and addressing customer concerns. Responding publicly also demonstrates transparency and shows other customers that you value their opinion.
Use hashtags and surveys: Create hashtags specific to your business and encourage people to use them when sharing their experiences. This allows you to easily track and collect feedback from customers related to specific campaigns or initiatives. You can also leverage the voice of customer surveys and polls to gather more structured feedback from your audience.
Customer satisfaction surveys
Conducting customer satisfaction surveys is another effective way to collect VoC data. LiveAgent's time rules feature allows businesses to send automatic follow-up emails after a customer service interaction. These emails can contain a satisfaction survey, giving your customers an opportunity to share their feedback and rate their experience.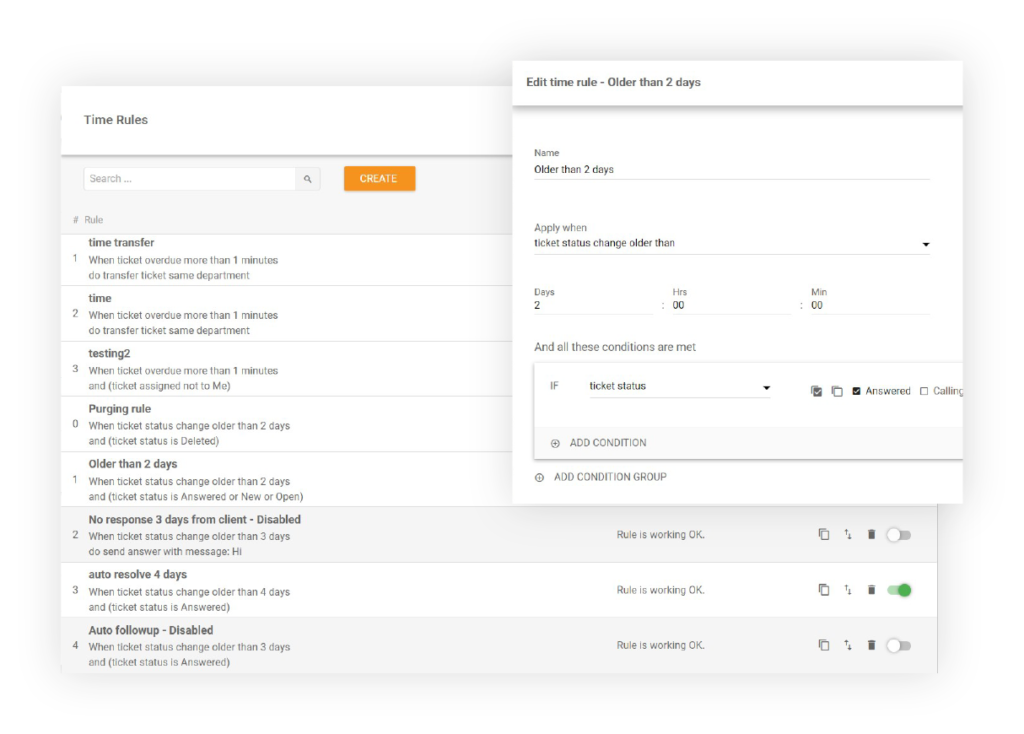 Define business goals and objectives: Determine the specific information you want to gather, such as overall satisfaction, specific areas of improvement, or product/service feedback.
Design the survey: Create a well-designed survey that is easy to understand and complete. Use clear and concise language, keep questions relevant to the objective, and use a mix of closed-ended and open-ended questions.
Choose the right survey method: Decide which method will suit your business and target audience. This can include online surveys, email surveys, or mobile app surveys.
Timing is key: Consider what is the appropriate timing for sending out the survey. For example, you can send it right after an interaction or after a product purchase to ensure that the experience is still fresh in the survey respondent's mind.
Analyze and act: Once you start gathering responses, analyze the data you obtained and use it to make necessary changes, address issues, and improve the customer experience.
Recorded call data
Recording customer service calls also provides an opportunity to gather voice of customer data through phone calls. LiveAgent's unlimited call recording feature enables businesses to record and store customer calls for training, quality assurance, and VoC purposes. Analyzing these recordings provides insights into customer preferences, their experience, and areas where processes or training may need improvement. The call recording details provided by LiveAgent help ensure a thorough understanding of each customer interaction.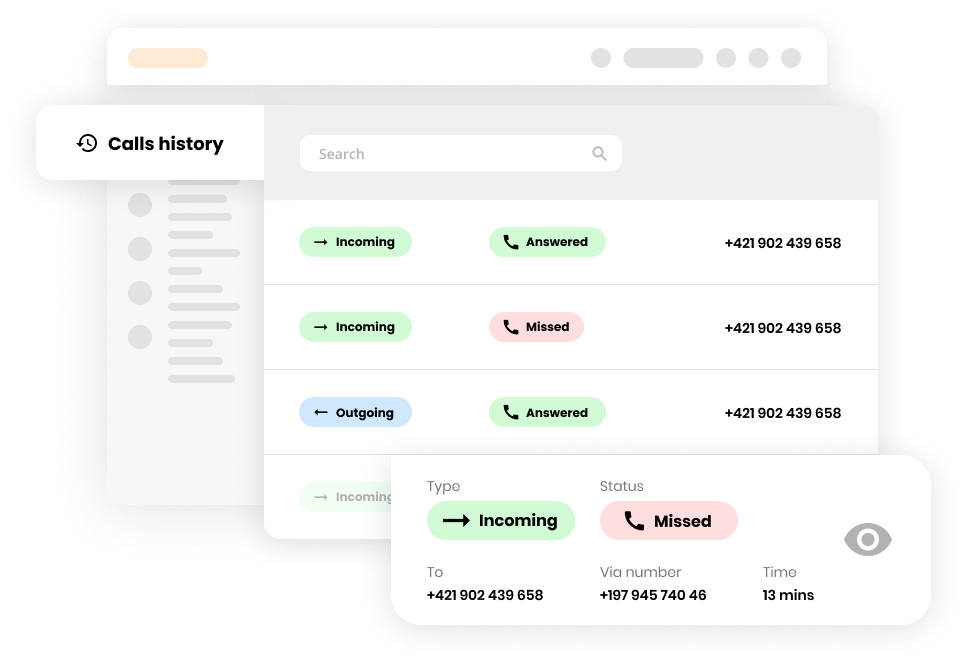 Enable call recording: Ensure that your customer service call center or customer service software has the recording feature enabled. It will automatically record customer calls for review and analysis.
Review and analyze: Regularly review and listen to recorded calls, and pay attention to the customer's tone, comments, concerns, and suggestions during the call. Analyze them to identify recurring themes, common questions, issues or pain points that are frequently mentioned in customer conversations.
Share feedback: Share the feedback gathered through these recordings with the appropriate teams within your organization. For example, product-related feedback should be shared with the product development team, and customer service feedback with the relevant customer service teams.
Make improvements: Based on the insights, create an action plan and take proactive steps to implement changes in your processes, training programs, or product offerings to better meet customer expectations.
How to use Voice of Customer (VoC) data?
Capturing the voice of customer data and using them effectively can drive positive change and improve business outcomes. Let's look into how companies can leverage this data to enhance customer experience, drive product development, and manage their knowledge base.
Improving your customer experience and satisfaction
By analyzing metrics such as Net Promoter Score (NPS), Customer Satisfaction Score (CSAT), and Customer Effort Score (CES), companies can recognize certain pain points in the customer journey, which allows them to take targeted actions to enhance the overall customer experience, increase customer satisfaction, and foster loyalty and retention.
Product development
Paying close attention to customer feedback, their preferences, and suggestions is crucial to identify areas for innovation and product enhancement. This data helps prioritize features, address consumer needs, and ensure that new versions of products meet customer expectations – leading to higher customer satisfaction and increased product success rates.
Managing a knowledge base
Voice of customer data, such as feedback or common support inquiries, can help you identify gaps in your knowledge base and update its content accordingly. It will help you make sure that your KB provides relevant and accurate information to customers, empowering them to find answers and solutions independently.
LiveAgent's external and internal knowledge base solution enables you to centralize and manage your knowledge base to ensure that it remains up-to-date. Using a reliable knowledge base software can help enhance customer self-service, decrease support ticket volume, and improve overall customer satisfaction.
How is the voice of the customer implemented in LiveAgent
LiveAgent provides many powerful tools and features that can be used for effectively collecting feedback:
Conclusion
In conclusion, understanding the voice of the customer (VoC) is key to success no matter what industry you operate in, or what type of business you run. Actively listening to your customers and analyzing their feedback, preferences, and needs allows you to improve customer experience by making informed decisions and changes, ultimately leading to business growth.
The benefits of voice of customer include increased customer satisfaction, higher retention, building loyal customer base, as well as increase in sales and revenue. You can look at some of the globally successful companies such as Tesla, Heineken, or Dunkin' to see how they utilize the VoC to boost their business performance.
There are also many ways you can collect the voice of customer data, such as live chat, social media platforms, surveys, or call recordings, and it's up to you to choose what will work the best for you and your business.
LiveAgent offers a comprehensive suite of intelligent tools and features to help you collect, analyze, and utilize VoC data effectively. To experience all the LiveAgent's capabilities, take advantage of the 30-day free trial and start unlocking your full potential.
Frequently Asked Questions
What is the voice of the customer?

Voice of customer means the process of gaining customer expectations, preferences and experiences – both positive and negative – with your services. Thanks to it, we can collect both numerical and qualitative data.

Why is the voice of the customer important?

The voice of the client is extremely important, if not the most important. By listening to the client's voice, you make sure that: the client stayed with your brand as long as possible, he could see that his opinion mattered, Your profits were greater, stand out from the competition, a satisfied customer will promote the brand.

How can you improve your voice of customer score?

To improve your voice of customers, you can introduce several processes or start using tools that will make your work easier. First, you can automate your customer service. Thanks to this, greater efficiency is possible, as the repetitive activities no longer take up working time. If a large percentage of customers come with a single query, they can get an answer automatically, or at least they can be referred to the FAQ. Secondly - the customer has a lot of contact channels to choose from. Therefore, it is worth using the omnichannel tool that will allow you to monitor the history of communication in one place. The third important point is very good customer service management. You should look for solutions that enable human resource management in combination with KPI definition and presentation of results. The last point is independence from IT departments. The idea is that all the activities that are relatively simple and do not require specialist knowledge can be performed by the customer service department.

How do you get the voice of customer?

You can use various tools to gain the voice of customers. Examples of tools are: A customer survey in which you ask questions important to your brand. Surveys can be more elaborate and consist of several parts. It all depends on what information you need. Filters that will sort the information. These can be, for example: dissatisfied customer, the results of a conversation with the customer, open loop and a case in progress. Voice of Customer alert. Thanks to this, you will receive notifications about Voice of Customer. Creating reports. Reports allow you to monitor and analyze what is happening.
Expertennotizen
Die Stimme des Kunden ist von unschätzbarem Wert für jedes Unternehmen. Nur wer aufmerksam zuhört und auf die Bedürfnisse seiner Kunden eingeht, kann langfristige und erfolgreiche Kundenbeziehungen aufbauen.

Andrej Saxon
Vertriebsmanager