Zahlreiche Untersuchungen haben gezeigt, dass ein Live Chat der beliebteste digitale Kundenkommunikationskanal geworden ist und bleibt. Es ist auch eines der flexibelsten Tools, die Sie auf Ihrer Website für eine Vielzahl von Zwecken verwenden können – vom Kundensupport bis zum proaktiven Vertrieb und Marketing. Die folgenden bewährten Beispiele für gebrauchsfertige Live Chat Skripte (vordefinierte Antworten) für die häufigsten Live Chat Szenarien helfen Ihren Vertretern dabei: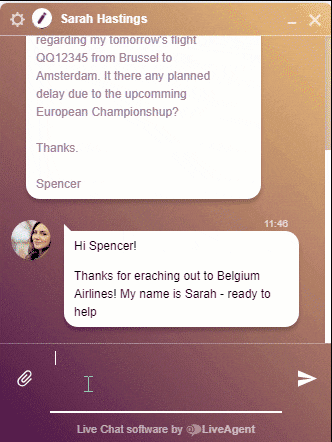 Stellen Sie eine schnellere Antwort bereit, indem Sie mit Kunden und Besuchern chatten.
Vermeiden Sie es, immer wieder dieselben Nachrichten einzugeben und steigern Sie die Effizienz.
Interagieren Sie mit mehreren Besuchern gleichzeitig, ohne die Servicebereitstellung zu beeinträchtigen.
Behalten Sie den richtigen Ton bei und liefern Sie eine konsistente Markenbotschaft.
Bieten Sie zeitnahen Kundensupport an und verbessern Sie die Kundenzufriedenheit.
Steigern Sie die Umsetzung, indem Sie potenzielle Kunden proaktiv auf bestimmten Webseiten ansprechen.
Einen Chat beginnen
Allgemeine Begrüßung
Begrüßung für wiederholte Besucher
Praktive Chateinladung
Zurückkehrende Besucher
Leerlauf Besucher
Preisangabe/Check-out Seite
Proaktive Verkäufe
Anfrage von zusätzlicher Information
Allgemeine Informationsanforderung
Ihr Verständnis bekräftigen
On Hold halten
In der Warteschlange
Mitten in einer Chatsession
Ein Chatgespräch fortsetzen
Einen Chat weiterleiten
Beschwerden handhaben
Sich für ein Problem entschuldigen
Einer Anfrage nicht nachgehen zu können
Einen Chat abschließen
Einem Kunden danken
Wenn ein Besucher teilnahmslos ist/nicht antwortet
Ready to try our live chat templates?
LiveAgent is the fastest and leanest live chat solution on the market. Try it today with our free 14-day trial. No credit card required.
Free Trial
Zurück zu den Vorlagen