Reaktiver Kundenservice ist seit Jahren die Norm. Immer mehr Unternehmen verfolgen jedoch einen proaktiveren Ansatz, der sich als äußerst effizient erwiesen hat. Tatsächlich ergab eine Forschung von BTS, dass 78% von Verbraucher es mögen, wenn Unternehmen bemerken, dass sie Schwierigkeiten mit einer Website haben/eine Bestellung abschließen, und sie direkt kontaktieren, um zu versuchen, zu helfen. Hier kommen proaktive Chat-Einladungen ins Spiel. Auslöserbasierte, hochgradig personalisierte und zeitlich perfekt abgestimmte proaktive Chat-Einladungen können die Benutzererfahrung verbessern, die Kundenzufriedenheit sicherstellen und mehr Verkaufschancen bieten.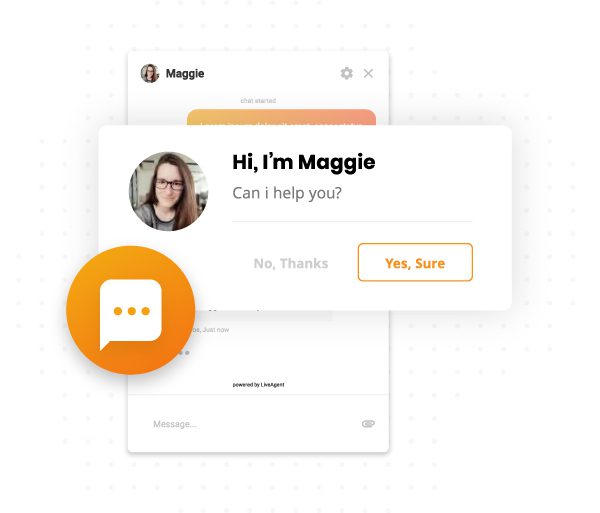 Was ist ein proaktiver Chat?
Im Gegensatz zu reaktiven Chats werden proaktiveChats vom Unternehmen initiiert (entweder manuell oder automatisch). Automatisierte proaktive Chat-Einladungen können basierend auf bestimmten Besucherinformationen, vordefinierten Regeln und verschiedenen Verhaltensmetriken ausgelöst werden, z.B. der aktuellen Seite, auf der sie surfen, der Häufigkeit, wie oft sie Ihre Webseite besucht haben, der Zeit, die mit Surfen auf Ihrer Webseite verbracht haben und vieles mehr.
Bei strategischer Anwendung kann ein proaktiver Chat dazu beitragen, Vertrauen bei Erstbesuchern aufzubauen, die Benutzerinteraktion zu steigern und die Kundenzufriedenheit zu erhöhen (laut einer Studie 94% der Kunden, die proaktiv zum Chatten eingeladen wurden, waren etwas oder sehr zufrieden mit der Erfahrung), einen Abbruch des Einkaufswagens zu verhindern, die Absprungrate zu reduzieren, die Konversions-Raten und durchschnittliche Bestellwerte zu erhöhen.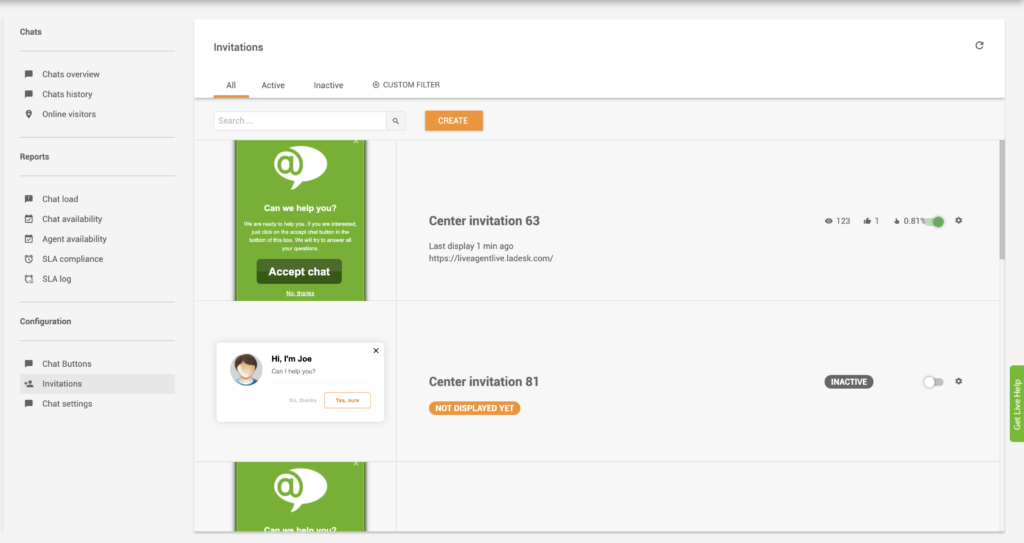 Best Practices eines proaktiven Chats
Geben Sie Ihren Besuchern etwas Zeit, sich umzuschauen, bevor Sie sie zum Chat einladen – legen Sie das richtige Timing basierend auf der durchschnittlichen Zeit fest, die Sie auf jeder Seite verbringen.
Machen Sie es Besuchern einfach, eine proaktive Chat-Einladung anzunehmen oder abzulehnen, um sicherzustellen, dass sie die Kontrolle über ihre Chat-Erfahrung haben.
Senden Sie nicht mehrere Chat-Einladungen während derselben Browsersitzung – insbesondere nachdem ein Besucher Ihre Einladung bereits einmal abgelehnt hat.
Aktivieren Sie den proaktiven Chat nicht auf jeder einzelnen Seite, da dies Ihre Besucher möglicherweise nur irritiert. Zielen Sie stattdessen auf strategische Seiten (z. B. Produkt-/Preis-/Checkout-Seiten).
Vermeiden Sie zu allgemeine Nachrichten. Passen Sie Ihre proaktiven Chat-Einladungen an die Seite an, auf der sie angezeigt werden.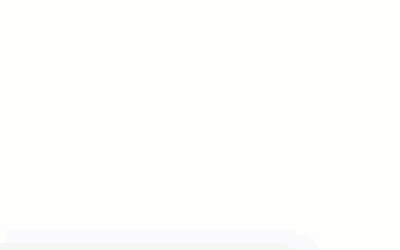 Proaktive Chat-Vorlagen für verschiedene Szenarien
Proaktive Chat-Einladungen für Erstbesucher
Proaktive Chat-Einladungen für wiederkehrende Besucher
Proaktive Chat-Einladungen für zögernde Besucher
Proaktive Chat-Einladungen für Produktseiten
Proaktive Chat-Einladungen für Preisseiten
Proaktive Chat-Einladungen für Checkout-Seiten
Proaktive Chat-Einladungen für Seiten mit hoher Absprungrate
Proaktive Chat-Einladungen für FAQ-Seiten
Proaktive Chat-Einladungen für Cross-Selling-/Up-Selling-Möglichkeiten
Branchenspezifische Beispiele für proaktive Chat-Einladungen
Take advantage of our free 14-day trial.
Test all that LiveAgent has to offer, including our smart proactive live chat invitations. Deploy them based on specific action-based triggers and engage your customers today.
Free Trial
Zurück zu den Vorlagen